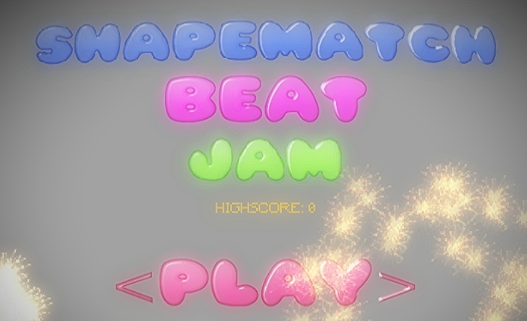 Shapematch Beat Jam
A downloadable game for Windows and Linux
Harder than Dark Souls, but practice makes perfect.

Object of the game:
It is a combination of a rhytm game and a match game.
You control the center shape. Move your shape to the matching shapes along the edges. If you manage to hit the shape on the beat you increase the score multiplier.

Match shape or color for small score, shape AND color for larger score, and shape, color AND on the correct beat for megascore and increased multiplier.
If you fail to match both shape or color it's game over.
Can you beat your own highscore?
Sound is highly recommended!
Controls:
Choose shape with buttons 1-2-3-4-5 (1=dot 2=line 3=triangle 4=square 5=star)
Choose color with buttons q-w-e-r-t (red, green, blue, cyan, magenta) or cycle with the tab key
Move shape with arrow keys <- ^ v ->

How to start the game

Windows / Mac / Linux - Requires Java 1.7 to run
You can click run.bat - or type 'java -jar shapematch.jar' in a command shell within the unzipped directory. Alternatively you can right click 'shapematch.jar' and choose 'Open With / Java...'
Known bugs:
If a controller is connected you may experience bugs, please disconnect all controllers if you experience this. Sorry again!

**STRATEGY TIPS**
- If you manage to match shape and color at the correct beat, you will rack up points quickly!
- If you have no multiplier to lose, it is sometimes better to just match either color or shape quickly to get the time bonus.

Game created in 48 hours using the **Koding Nights 2D Game Engine** based on the amazing LibGDX Java framework

Twitter: @kodingnights https://twitter.com/kodingnights Web: http://kodingnights.com/ Youtube/Plus: https://www.youtube.com/c/KodingNightsIndie

Copyright (C) Koding Nights 2016


| | |
| --- | --- |
| Status | Released |
| Platforms | Windows, Linux |
| Author | KodingNights |
| Tags | 1GAM, 2D, Casual, Ludum Dare, Ludum Dare 35, matching, Music, rhytm, shape, shapes |
| Links | Ludum Dare |
Download
Click download now to get access to the following files: